Wafla testifies in favor of seasonal flexibility for Washington ag overtime
Wafla testifies in favor of seasonal flexibility for Washington ag overtime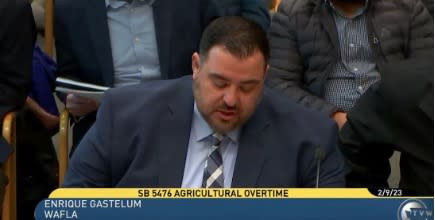 Today the Washington State Senate Labor and Commerce Committee held a hearing on SB 5476, a bill by Sen. Curtis King to allow up to 12 special circumstance weeks per year where overtime would not begin until after 50 hours per week.
The bill garnered support from a host of ag organizations, farmers, and farmworkers. Walfa CEO Enrique Gastelum was on hand to testify in favor of the bill. His testimony can be seen here, and the entire hearing in the bill is here.
The current threshold for paying time and a half for overtime hours in agriculture is 48 hours per week (except for dairy, which is already at 40). In 2024, that threshold drops to 40 hours per week.
Farmworkers testified that without this seasonal flexibility, they may continue to see a reduction in their take-home pay. Employers have had to begin reducing the number of hours offered to employees because they cannot afford to pay these higher overtime rates, especially when combined with other rising input and operational costs for seasonal work.
Opponents of the bill repeatedly implied that the traditional overtime exemption reflected racist practices and that farmworkers who support this bill were misinformed or manipulated. Sen. Rebecca Saldana even translated for a farmworker and added her own editorial comments. Farmworkers testifying in favor of more flexibility consistently made it clear that they are fully aware of what this bill allows and that without it they are facing a difficult reality of fewer hours and less take-home pay.
Given the political makeup of the Legislature, the passage of this bill faces long odds this year. But legislators, the media, and the public now know about the negative effects ag overtime requirements are having on workers and growers.
Wafla will continue working on this issue in both Washington and Oregon to attempt to secure as much flexibility for farmers and farmworkers as possible.